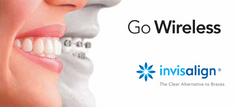 Chances are you've been searching online looking for an Invisalign dentist near you in the Beverly Hills, Los Angeles area to correct that crooked front tooth. Well, you are in the right place. Beverly Hills Invisalign dentist, Dr. Ebrahimi DDS, has extensive knowledge and experience to correct all cases of misaligned teeth including crowding, spacing, over-bite, over jet and cross-bite.
Traditionally, wire braces were the only option in order to correct such conditions. Thanks to technology and Invisalign, having a perfect smile is possible without the wires. Invisalign's modern approach to making your teeth straight using clear aligners has made it easier for patients of all ages.
Invisalign dentist, Dr.

Ebrahimi DDS and staff will take the necessary records (x-rays, photos, molds of your teeth) and will discuss your options in order to give you that Hollywood smile. Invisalign uses series of clear aligners custom made for you to gradually shift your teeth in the desired position. Each aligner is worn over your teeth for two weeks and best of all, there are no wires or brackets to worry about.
Benefits of having properly aligned teeth extend far beyond a confident smile. Having straight teeth makes it easier to maintain your oral health, which can positively impact your overall health. Since the aligners are removable, brushing and flossing your teeth is easy. Being virtually invisible is another reason our patients in Beverly Hills and the Los Angeles area love their clear braces.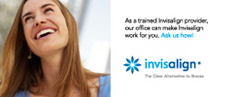 Once you have completed your orthodontic treatment designed by Los Angeles, Beverly Hills dentist, Dr. Ebrahimi DDS, you are ready for the final stage, which is the retention stage. It is very important to protect your new beautiful smile with a retainer. Studies have shown without retainers, newly straightened teeth can gradually shift back to their original position . This is a common occurrence with all orthodontic treatments. Beverly Hills dentist, Dr. Ebrahimi, usually recommends to wear the retainers 20 hours a day for the first six months. Then you can reduce it to 8 hours a day.
Call Beverly Wilshire Dental Group to make an appointment with your Beverly Hills dentist.